Twin Molasses Mixer
9" Tubular Screw Feeder with 1 HP Variable Speed Drive
Molasses Spray manifold with pump and meter
Product Number: 4350; 68811-H05418
[view pdf]
This high intensity Twin Rotor Continuous Mixer provides an excellent method of adding molasses or fat to dry feed previously mixed in a Kelly Duplex vertical or horizontal mixer. Dry, mixed product is uniformly transferred to the Twin Molasses Mixer by means of a screw feeder, as illustrated. This mixer, operating at 1100 RPM with a 7-1/2 HP drive, can produce from 6 to 10 tons per hour of average 35 pound per cubic foot material. Features include a complete, easy to-to-adjust control system that lets one operator set and maintain the most exacting liquid to solid proportions. Standard equipment includes a liquid flow meter, a pressure gauge and a dial indicator valve. Pumps, strainers, core heaters, valves and meters are available for practically any liquid material. The illustration below also shows a two-way bagger discharge that can be attached in place of the standard bulk discharge.
Molasses / Fat
Heaters, strainers, pumps, gauges, valves and meters
[view pdf]
Molasses/Fat continuous flow core heater with 60-250 F. thermostat in NEMA IV enclosure. 230 or 460 VAC, single or three phase. 6000 watts. 115 pounds.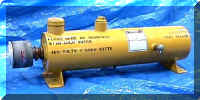 | | | | |
| --- | --- | --- | --- |
| Molasses/fat strainer with removable stainless steel strainer screen. 28 pounds | Standard pressure gauge | Diaphragm pressure gauge | Flow control valve |
3 HP molasses/fat pump with adjustable built in by-pass valve. Complete with motor and drive. 200 pounds:

5 HP molasses/fat pump with adjustable built in by-pass valve. Complete with motor and drive. 250 pounds:

The Model SC-ER-H Molasses Disc 1" Meter with Bronze chamber, shown above, measures the flow of molasses or other liquids through a pipe. The illustrated #PFT2E Electronic Transmitter mounted on the meter, transmits flow information to the Model PC100 Panel Mount Industrial Process Controller shown at right. The controller can display and process the liquid flow information in any unit of measurement. The meter/transmitter weighs 11 pounds. The Controller weighs 2 pounds: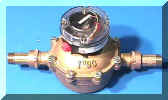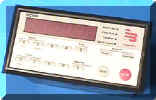 The Model 70 RCDL 1" Molasses Disc Meter with Bronze chamber, corrosion resistant internals, and 1" NPT adapters shown above, measures the flow of molasses or other liquids through a pipe. The illustrated #PFT1E Electronic Scalable Pulse Transmitter mounted on the meter, (AC 115 VAC/DC inputs and outputs), transmits flow information to the Model ER-8R Remote Digital Totalizer with NEMA 4X housing shown on the left. The remote digital display totalizer can display the liquid flow information in any unit of measurement. For example the totalizer can display the total amount of molasses flowing through the meter at 11.7 lbs per gallon. The meter assembly weighs 14 lbs. The remote display weighs 3/4 lbs:

^ back to top ^